The Mid-Maryland Baptist Association (MMBA) On-Mission Council (OMC) is calling ALL MMBA PASTORS and INTERESTED LAYPERSONS to attend one or both of the following "Town Hall" meetings.
August 15, 7:00 PM & August 22, 1:30 PM
At Friendship Baptist Church
1391 Sykesville Road (Md Rt 32), Sykesville, MD 21784 (Tentative)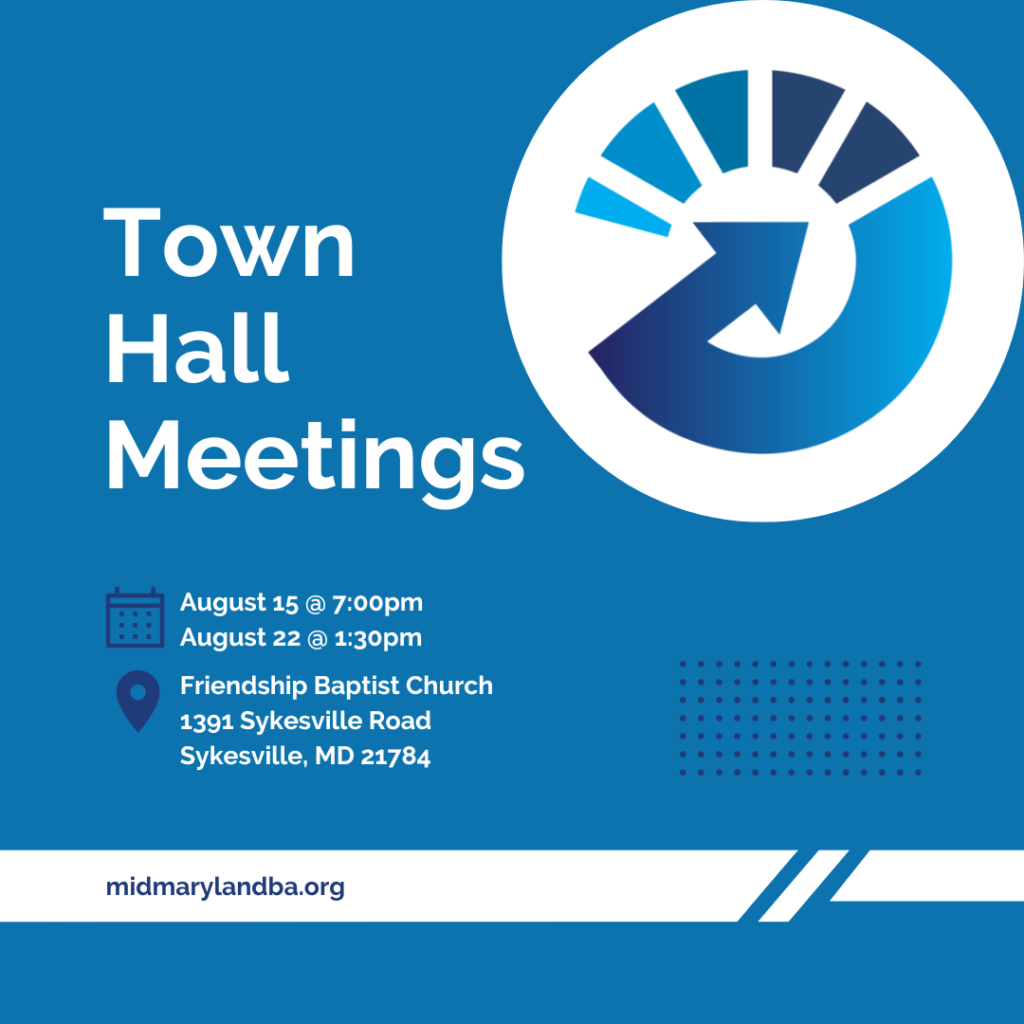 There are three reasons for these meetings:
To share the OMC's vision concerning the role of the DOM and the future structure of the association as the retirement of our current DOM, Larry Steen, draws near. (Larry began service as DOM on Jan 15, 2018 and will have served just a couple of weeks short of five years when he retires, effective December 31st).
To discuss the process for calling the next part-time DOM. A new job description will be shared. The search committee consists of the OMC and may additionally include up to four additional active MMBA pastors approved by the OMC. Interested pastors may notify the DOM, or any OMC member of a willingness to serve on the committee. Resumes for the DOM position will be accepted through September 6th .
To seek pastoral and lay input concerning the future mission and ministries of the association. A written survey will be shared at the meeting and will be distributed electronically to all pastors and
churches shortly after the town hall meetings. Your participation in these meetings and in the survey is needed! We are offering two "Town Hall" meeting dates, one daytime, one at night, in different weeks, to help accommodate varying personal schedules. Though your physical attendance is preferred, the meetings will also be available via ZOOM, for those who cannot physically attend. Contact the DOM if you need the ZOOM ID.
We look forward to your participation in one or the other (or both!) of these Town Hall Meetings.

Sincerely,
The members of the MMBA On-Mission Council:
Larry Steen, DOM dom@midmarylandba.org
Ken Cavey, Pastor, Bethel BC, and MMBA Moderator
Brian Corrick, Pastor, Burntwoods BC and MMBA Vice Moderator
Jim Edmondson, Pastor, Elders BC
James (Woongki) Lee, Pastor Korean Hope BC
Lance Metcalf, Pastor, Liberty BC
Josh Voght, Pastor, Mt. Airy BC