We ask all MMBA churches for prayer as the On Mission Council (OMC) of the MMBA seeks applicants to fill the Director of Missions position of the Association resulting from the upcoming retirement of Larry Steen, effective Dec 31, 2022.
Below, please find a copy of the MMBA DOM job description. Those interested in applying for the position should send resumes to the association (dom@midmaryland.com) to arrive no later than September 12, 2022.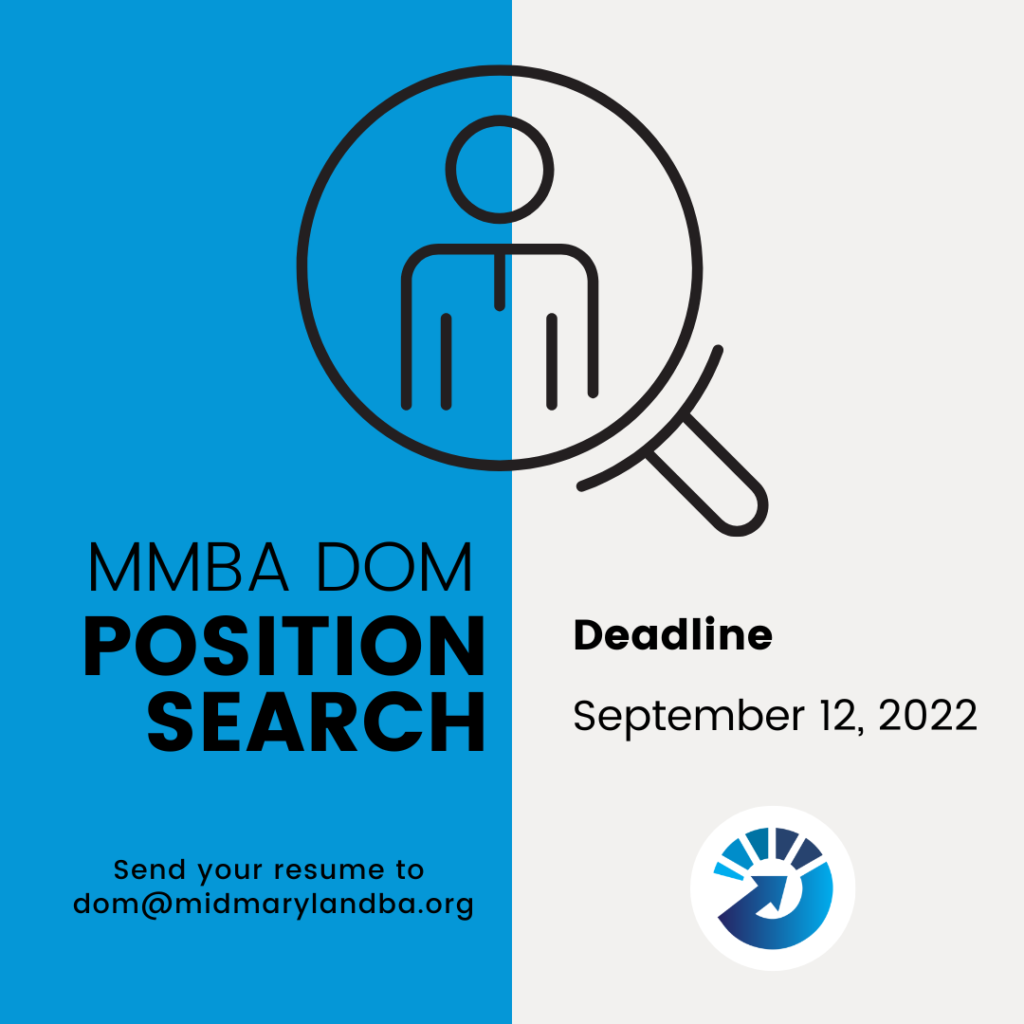 MMBA DOM Job Description
MMBA DOM Position is based on a 15 hour work week. The ministry of the association will be accomplished by the DOM and ministry teams with each team having a Team Leader and that leader being on the Association's On Mission Council (OMC). Teams may be added as other needs arise, but the basic teams will be:
the Strengthening Pastors and Families Team
the Strengthening Churches Team
the Church Planting Team
Language Pastors Team
"Samaria and Beyond" Missions Team
(Future teams?)
DOM General Responsibilities:
Supervise MMBA office personnel (Administrator, Treasurer).
After prayerfully seeking God's direction, identify goals and objectives for ongoing, strategic, short and long-range associational ministry, with the input and support of the OMC, MMBA Pastors and MMBA churches. Provide a report at the annual meeting of the Association that summarizes our progress towards accomplishing the goals and objectives identified during the planning process.
Oversee the ministries of the OMC.
Along with the OMC, cultivate fellowship among MMBA pastors.
Regularly communicate with Pastors in ways that will promote a spirit of cooperation between the MMBA and member churches.
Encourage MMBA pastors and churches not participating in the Association to find ways to connect with the MMBA that fit their needs and priorities.
Represent MMBA interests in relationship to the BCMD and other SBC Boards and agencies, as needed.
Help pastors and churches link into our BCM/D and SBC networks.
Update annually the MMBA Emergency Plan of Action Manual.
Qualifications:
Be a devout Christian committed to the BFM 2000 statement of faith.
Be a graduate from a college and an evangelical seminary.
Have a broad and detailed knowledge of the functions of the Southern
Baptist Convention.
Exhibit a sound Biblical world-view and theology.
Have at least ten years pastoral experience in a cultural environment like the one in which MMBA presently exists.
Have a recent history of active involvement in associational work (beyond pastoring a church that gives financially to the association.)
Have training and experience in the dynamics of working in volunteer group settings.
Demonstrated experience in writing and speaking.
Understand the sociological, psychological, and spiritual trends, and forces in urban, suburban, and rural life which influence people, churches, and associations.
Have training and experience in administration and management, including but not limited to office staff development and review of financial information.
Please send resumes to DOM@midmarylandba.org by September 12, 2022.